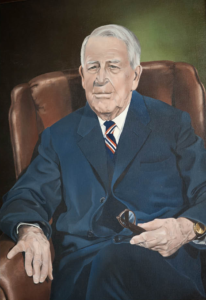 This "virtual museum," with historical details and functional descriptions provided for many items, brings to life the treasure of the dental school's A.W. Ward Museum of Dentistry. The Ward collection preserves artifacts and documents dating mainly from the mid-19th to mid-20th centuries. For the past several decades, the bulk of the museum's collection has been inaccessible to the dental school community and the general public. This website makes selected highlights of the collection accessible to the world.
San Francisco's College of Physicians and Surgeons ("P&S"), founded in 1896, offered dental, medical and pharmacy degrees until 1918, when it became exclusively a dental school. In 1962, P&S affiliated with Pacific, becoming the University of the Pacific School of Dentistry. The A.W. Ward Museum of Dentistry was founded in 1974 in honor of P&S Class of 1902 graduate Dr. Abraham Wesley Ward, a scientist, inventor and renowned pioneer in surgical periodontics. From 1917 to 1925, Dr. Ward was a professor of oral hygiene at P&S, and he maintained a private practice in San Francisco until 1962.
The contents of the Virtual Dental Museum were created by the Center for Dental History and Craniofacial Study under the direction of Dr. Dorothy Dechant, and the Museum website is maintained and updated by Katherine Falk, Marketing and Communications, University of the Pacific, Arthur A. Dugoni School of Dentistry. Questions? Please email pr@pacific.edu.